What they said after eating too many waffles:
"Lot's of fun!" - Sophie L.
My boyfriend and I had a great time and met some really great people as well! The host was really funny and also knowledgable. He taught us a lot about waffles and the different types and how the locals eat their waffles which was interesting. You work in groups to make the batter and then you all get to share the waffles and put any toppings you want on there. They were delicious!
"Enjoyed the waffles!" - Kiswah
We went as a family and joined up with a small group. The host was very nicely explaining a little history on the waffles(...). Then the fun part if making your own waffles. My children made them. Generous amount of toppings were there to help ourselves.
Also eat as much as you want. Amazing. Kids loved it. Thank you
"Un amusant délice!" - Seb Vdw.
Super concept! Idéal pour découvrir un dessert typique de Bruxelles et de Belgique. On a passe un bon moment entre amis. De plus, notre chef (titch) a pleins de bons conseils pour visiter Bruxelles autrement(...). Bref, super content d'avoir découvert ce workshop!!!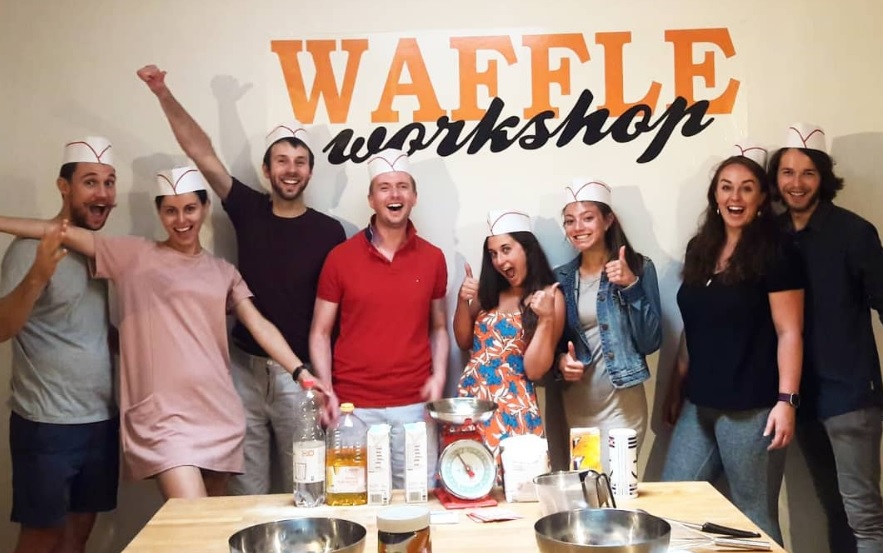 CHECK AVAILABILITY
ON REQUEST
Meeting point:
Our venue is located on Ezelstraat 98, Bruges (Belgium) that's also the meeting point. Please note that booking ahead is compulsory.

It is sometimes possible to park right on the Ezelstraat street (one way), otherwise check out the underground parking below.

The easiest way to reach the workshop is by train: Brugge Station (= Bruges train station) then walk around 20 mins in beautiful Bruges to our workshop.
Google Map Link
Closest underground parking lot
GPS coordinates: 51.212354, 3.219383